Jan 25, 2010 Industry News, Marketing And Advertising Analytics
There are a couple of useful articles this month in the Journal of Advertising Research. They are on a roll over at the JAR, driving some great discussion in the last few months about measurement of marketing, digital and otherwise. Recommended reading in this month's issue: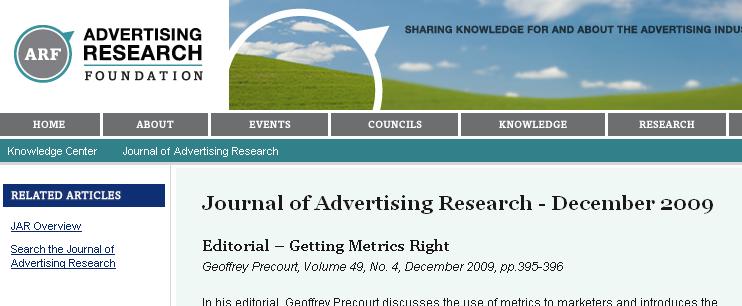 "Commentary: Who Owns Metrics? Building a Bill of Rights for Online Advertisers", by Benjamin Edelman, Harvard Business School Assistant Professor in Negotiation, Organizations & Markets
Ben Edelman, who has written on the role of deception and overcharging in online media (among other topics) is right on target here – he argues that advertisers have a right to know where and when their ads are being shown, delivered in the form of meaningful, itemized billing. He also asserts the advertisers' ownership of the data that comes from their campaigns, and says they should (for example) be able to use data collected from their Google PPC campaigns to target campaigns on MS AdCenter or Yahoo! This is definitely a controversial area – certainly Google, along with cable and satellite TV operators, would disagree – read it and let me know what you think.
"It's Personal: Extracting Lifestyle Indicators in Digital Television Advertising", by George Lekakos, Assistant Professor in e-Business at the University of the Aegean, Greece.
In case you think my comment about TV distributors wanting to own audience data is irrelevant in the context of digital marketing, Lekakos lays out a scheme for using set-top box data to discover and target lifestyle segments that are then used as part of a targeting algorithm. The author lays out an approach by which TV set-top box data can be used to drive very accurate personalization and targeting of ads, but the question of whether the data belongs to the distributors, the programmers, or the advertisers is quite critical to whether this can be implemented. I'd have to say that the question is far from settled.
"Measuring Advertising Quality on Television: Deriving Meaningful Metrics from Audience Retention Data"<by Dan Zigmond, Sundar Dorai-Raj, Yannet Interian, and Igor Naverniouk
The authors explore the use of audience retention metrics captured via TV set-top boxes as a measure of ad quality. They use a "retention score" that purports to isolate the effect of ad creative on audience retention, and link it with future audience response and qualitative measures of ad quality. They assert its usefulness as a relevance measure that could be used to optimize TV ad targeting and placement. Again, we should note that the issue of data ownership needs to be dealt with if this approach is going to be applied widely.
"The Foundations of Quality (FoQ) Initiative: A Five-Part Immersion into the Quality of Online Research", by Robert Walker, Raymond Petit, and Joel Rubinson
To address both the increasing importance of online research and questions about its validity, the FoQ Initiative has been undertaken to measure the quality of online research. The Online Research Quality Council included large advertisers, ad agencies, academic researchers, and research suppliers in the process. Among the issues they addressed: accuracy, representativeness, and replicability of results, identification and handling of questionable survey-taking behaviors, and the suspicion that small number of "heavy" online respondents are taking most online surveys.
Some of the interesting findings:
There is significant overlap in membership of various online research panels, but no evidence this causes data quality issues
Multiple panel membership actually lowers the odds of "bad" survey-taking behavior by 32%
You should keep surveys short – longer surveys increase the occurrence of "bad" survey-taking behavior by 6X
Age matters – younger respondents had 2X the occurrence of "bad" survey-taking behavior than older ones
Tags: Analytics, Ben Edelman, Bill Seely, Dan Zigmond, FoQ, George Lekakos, Igor Naverniouk, JAR, Joel Rubinson, Journal of Advertising Research, Metrics, Practical Marketing Analytics, Raymond Petit, Robert Walker, Sundar Dorai-Raj, The Foundations of Quality Initiative, Yannet Interian