Posts Tagged 'Metrics'
Feb 16, 2010 Industry News, TV and iTV Analytics
Check out this article by Robert Seidman on TVbytheNumbers.com In it, he cites Nielsen ratings indicating this year's opening ceremonies beat the Torino Olympics' opening weekend by 5 million viewers. The average of 28.6 million viewers over the first weekend beat Torino's first weekend by 25%.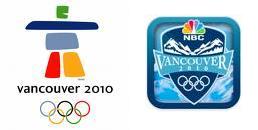 This beats the 106.5 million viewers last weekend for the Super Bowl (see the prior post in this blog), but that was much more concentrated in time. The Super Bowl got a 68 share while the Olympics first weekend got a 26.
The Olympics also did well on the smaller screens. Three Olympics apps are currently in the top 10 on iTunes, and NBCOlympics.com traffic is 250% higher than it was for Torino. It has only been a few days, but there have already been more unique viewers for NBCOlympics.com during the Vancouver Olympics than than there were for the whole Torino Olympics.
Play With Your TV! (a shameless plug for my #1 client, Ensequence)
If you are watching the Olympics via Dish Networks or Verizon FiOS, then you can access weblike interactive content right on your TV screen alongside your favorite Olympics events. Once you tune to MSNBC, CNBC, or USA, a prompt will pop up (nothing on NBC itself, as far as I know). Clicking the "Select" button on your remote starts an interactive experience that includes Top Stories, Medal Counts, Athlete Bios, and more. Real interactive TV in the wild. Check it out!
Tags: Analytics, audience, Bill Seely, Ensequence, Inteactive Television, Interactive TV, Metrics, Nielsen, Olympics, Olympics Interactive, Practical Marketing Analytics, Robert Seidman, TV and iTV Analytics, TV Ratings, TV Viewers, Viewership
Feb 8, 2010 Industry News, TV and iTV Analytics
In a story by David Bauder of the Associated Press, A.C. Nielsen went on record estimating that 106.5 million viewers watched Super Bowl XLIV (see at WashingtonPost.com HERE). That is the most heavily viewed event in TV history, bigger than (according to Wikipedia):
– the final episode of M*A*S*H (105.97 million viewers)
– last year's Super Bowl (98.7 million viewers)
– the Beatles' first appearance on The Ed Sullivan Show (73 million viewers)
– Elvis' first appearance on The Ed Sullivan Show (60 million viewers)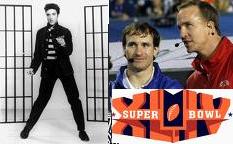 To be fair to the shows of yesteryear, the total US population (and the number of households having TVs) has continued to increase since those days. There are about 305 million people currently living in the US, so about 1/3 of the entire population watched the game.
It is remarkable in our modern splinter group society that we could find something that such a huge group of people could watch together, especially when you could rule so many people out right at the starting gate: infants, toddlers, anyone in solitary confinement, anyone unconscious or too sick to care, anyone at work in a job where you can't watch TV while you work, almost anyone who was in an airplane at the time, and most people who immigrated from countries where a "football" is something spherical.
I don't know the full importance of this number, but it does suggest that:
1. TV has not been made irrelevant by the Internet, despite Internet entrepreneurs' claims
2. People will still show up in giant hordes to watch a TV event en masse, if the product they are watching is enticing enough
3. Ed Sullivan really blew it by making them shoot Elvis from the waist up. The least remarkable half of him got 60 million viewers. Who knows what the full Elvis could have scored?
Tags: Analytics, AP, Associated Press, Bill Seely, David Bauder, Elvis Presley, Highest-Viewed TV Show, M*A*S*H, Metrics, Nielsen, Practical Marketing Analytics, Super Bowl, TV Viewers
Jan 25, 2010 Industry News, Marketing And Advertising Analytics
There are a couple of useful articles this month in the Journal of Advertising Research. They are on a roll over at the JAR, driving some great discussion in the last few months about measurement of marketing, digital and otherwise. Recommended reading in this month's issue: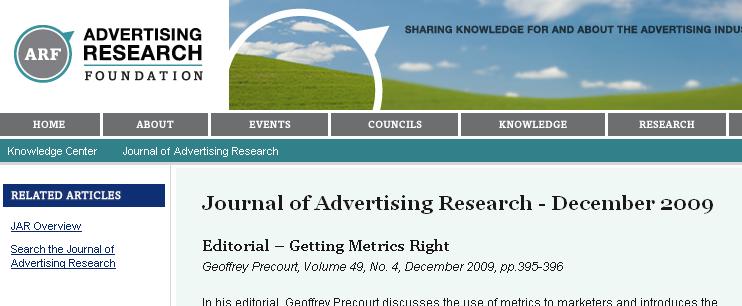 "Commentary: Who Owns Metrics? Building a Bill of Rights for Online Advertisers", by Benjamin Edelman, Harvard Business School Assistant Professor in Negotiation, Organizations & Markets
Ben Edelman, who has written on the role of deception and overcharging in online media (among other topics) is right on target here – he argues that advertisers have a right to know where and when their ads are being shown, delivered in the form of meaningful, itemized billing. He also asserts the advertisers' ownership of the data that comes from their campaigns, and says they should (for example) be able to use data collected from their Google PPC campaigns to target campaigns on MS AdCenter or Yahoo! This is definitely a controversial area – certainly Google, along with cable and satellite TV operators, would disagree – read it and let me know what you think.
"It's Personal: Extracting Lifestyle Indicators in Digital Television Advertising", by George Lekakos, Assistant Professor in e-Business at the University of the Aegean, Greece.
In case you think my comment about TV distributors wanting to own audience data is irrelevant in the context of digital marketing, Lekakos lays out a scheme for using set-top box data to discover and target lifestyle segments that are then used as part of a targeting algorithm. The author lays out an approach by which TV set-top box data can be used to drive very accurate personalization and targeting of ads, but the question of whether the data belongs to the distributors, the programmers, or the advertisers is quite critical to whether this can be implemented. I'd have to say that the question is far from settled.
"Measuring Advertising Quality on Television: Deriving Meaningful Metrics from Audience Retention Data"<by Dan Zigmond, Sundar Dorai-Raj, Yannet Interian, and Igor Naverniouk
The authors explore the use of audience retention metrics captured via TV set-top boxes as a measure of ad quality. They use a "retention score" that purports to isolate the effect of ad creative on audience retention, and link it with future audience response and qualitative measures of ad quality. They assert its usefulness as a relevance measure that could be used to optimize TV ad targeting and placement. Again, we should note that the issue of data ownership needs to be dealt with if this approach is going to be applied widely.
"The Foundations of Quality (FoQ) Initiative: A Five-Part Immersion into the Quality of Online Research", by Robert Walker, Raymond Petit, and Joel Rubinson
To address both the increasing importance of online research and questions about its validity, the FoQ Initiative has been undertaken to measure the quality of online research. The Online Research Quality Council included large advertisers, ad agencies, academic researchers, and research suppliers in the process. Among the issues they addressed: accuracy, representativeness, and replicability of results, identification and handling of questionable survey-taking behaviors, and the suspicion that small number of "heavy" online respondents are taking most online surveys.
Some of the interesting findings:
There is significant overlap in membership of various online research panels, but no evidence this causes data quality issues
Multiple panel membership actually lowers the odds of "bad" survey-taking behavior by 32%
You should keep surveys short – longer surveys increase the occurrence of "bad" survey-taking behavior by 6X
Age matters – younger respondents had 2X the occurrence of "bad" survey-taking behavior than older ones
Tags: Analytics, Ben Edelman, Bill Seely, Dan Zigmond, FoQ, George Lekakos, Igor Naverniouk, JAR, Joel Rubinson, Journal of Advertising Research, Metrics, Practical Marketing Analytics, Raymond Petit, Robert Walker, Sundar Dorai-Raj, The Foundations of Quality Initiative, Yannet Interian
Nov 2, 2009 Industry News, TV and iTV Analytics
According to an article today in MEDIAWEEK (see article here), the Coalition for Innovative Media Measurement is meeting with Nielsen, Rentrak, TiVo, TRA and TNS Media Research to get feedback about their set-top box research RFP (see my last post). I would love to be in on those meetings – it would be like getting a glimpse of the next 5-10 years of media measurement. In any case, they would not be boring – especially the one with Nielsen, whose current ratings are the thing that CIMM is looking to replace with something better.
The article states, interestingly that CIMM: "… can depart from the typical RFP process of awarding a single contract and instead foster a collaborative relationship among the research and data providers to identify multiple projects that would meet the RFP". Perhaps they, too, wonder who would respond.
Tags: CIMM, Coalition for Innovative Media Measurement, data, Kantar, MEDIAWEEK, Metrics, Nielsen, Practical Marketing Analytics, Rentrak, Seely, set-top box, TiVo, TNS Media Research, TRA
Nov 2, 2009 Industry News, TV and iTV Analytics, Web Analytics
The Coalition for Innovative Media Measurement (the CIMM) launched their website last week (http://www.cimm-us.org). Members in the coalition consists of TV programmers, advertisers, and ad agencies. While AT&T is represented, it is their Brand Marketing and Advertising SVP who is sitting on the council.
The CIMM released two research RFPs on their site last week. The two areas for investigation:
1. Investigate the current and future potential of TV measurement via set top box data
2. Cross-platform measurement of video across Television, Internet, and Mobile
This may sound simple, but don't let the short sentences fool you. The first one alone is loaded with gotchas that will make responders think twice. First of all, they have to be the first of the set-top box vendors willing to be completely transparent with their data and their processes. This is unlikely to be undertaken by an operator for the usual price of a research study.
Who knows? Maybe I am wrong and one of them will step up in order to get first-mover advantage in the data-vending business. Maybe AT&T will get pulled in because of their participation in the council. The reason I am skeptical is that the operators are unlikely to arm programmers with better information to use against them in negotiations around carriage fees etc. without getting a really huge concession or advantage in return. Perhaps it might make more sense for a company like TiVo to participate than it would for a cable, telco or DBS operator.
As someone who wants access to the information, I hope I am wrong and would love to be proven so. We'll see.
Tags: AT&T, CIMM, Coalition for Innovative Media Measurement, cross-platform, data, Kantar, MEDIAWEEK, Metrics, multiplatform, Practical Marketing Analytics, Seely, set-top box, three screen viewing, video
Sep 30, 2009 Industry News, TV and iTV Analytics
Here are several ideas to drive maximum interactive participation and duration for your interactive television application:
Idea One: Begin With the End in Mind (apologies to Stephen Covey)
What is your business objective? If you get specific about what you want viewers to do with your interactive experience, you can design to make that more likely. For example, if you want viewers to interact for a long time, that favors design that is immersive and absorbing, with lots of content and lots of features. On the other hand, if you want to get the highest possible number of viewers to participate in the experience, then an unobtrusive and streamlined experience is what you want, with very focused functionality (e.g., opt in, vote for your favorite contestant, then exit).
Idea Two: Have a Compelling Viewer Value Proposition
Once you know what you want the viewer to do, you need to design an experience that meets that objective AND gives the viewer compelling value for the time they spend interacting. A weak viewer value proposition yields weak performance vs. your business goals.
Idea Three: It All Starts With a Click (No Click = No Participation)
Viewers will likely have no advance knowledge about what a particular interactive application does (or even what iTV is), or why they should care about it, so whatever is displayed on the screen to entice/enable them to start the experience is critical. I visualize the flow of viewers into an interactive application as a huge funnel with a very tiny hole in it. You want to:
1. Make the hole at the bottom of the funnel less tiny – make the prompt visible, enticing, and self-explanatory
2. Increase the "pressure" in the funnel – present a call to action that makes it obvious and compelling why viewers should interact (communicate your viewer value proposition)
3. Fill the funnel with as many potential interactors as possible – by presenting the opportunity to start the experience to as many of viewers as possible.
Idea Three: Present Many Opportunities to Opt In
Interactive experiences with more opportunities to enter them get more viewers participation. That means:
1. Present the opportunity more frequently during a given program or ad
2. Present the opportunity in multiple contexts (triggers in programs or ads as well as listings and banners in operator interactive portals)
3. Present the opportunity at multiple times of day
Tags: audience, Bill Seely, How-To, interactive experience, Interactive Television, Interactive TV, Metrics, Optimize, Performance, Practical Marketing Analytics, set-top box, TV and iTV Analytics, viewer value proposition