Jan 4, 2010 Industry News, Web Analytics
Playing with tools is fun – I did another Google Trends search, this time comparing "Facebook" to "MySpace", "YouTube" and "LinkedIn" as reference points. Wow – searches for "Facebook" have really grown amazingly fast (see the first chart, below). I wish I had bought a piece of that company 2-3 years ago.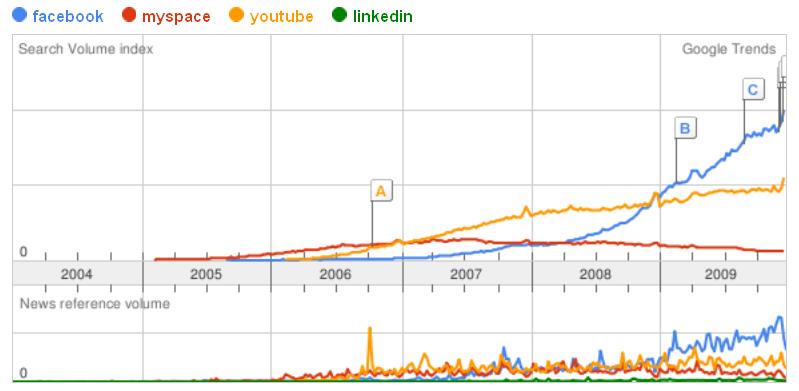 It occurred to me that there should be a corresponding trend in searches for "social networking", relative to other online marketing activities (e.g., email, search, display advertising). Searches for "social networking" have had a huge growth rate, but the absolute volume turns out to be really small compared to "email" and "search". I guess there is still time to get on that bandwagon. The search volume for "Facebook" crushes that for those terms, but this is made harder to interpret by the fact that these are much more likely to be searches by users, not just marketing professionals.
Tags: Bill Seely, Facebook, Google Trends, Graph, Keyword Search Frequency, Practical Marketing Analytics, Social Media