Mar 21, 2010 Optimization, Statistics, Web Analytics
Optimizing your website to maximize the number of page views or visitors, while sounding reasonable, may unwittingly have you wasting marketing dollars and effort on people who won't buy anything or participate on your website (or your advertisers' websites) in the foreseeable future.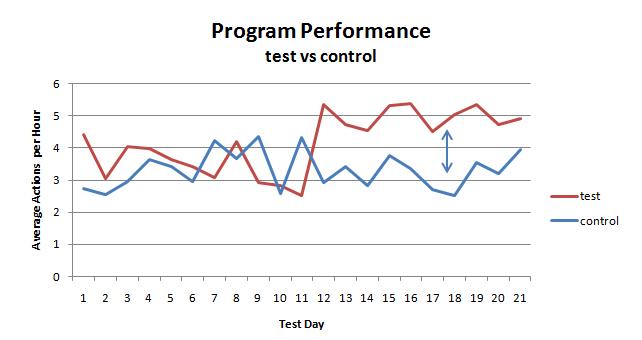 When you spend time and money on your site content or on audience development for your site, you want to make sure you are measuring the impact of those changes in terms of number of desired actions taken by visitors to your site, in terms of the efficiency with which you are spending resource. The key measure you are tracking on the cost side is the ECPA, or effective cost per action. If you have a small site and are passive about audience development, perhaps it makes sense to optimize to Actions Per Visit (APV), or Actions Per Daily Unique visitor (APDU). But if you are spending serious time and money then you need to track these costs and what they generate.
Lights! Camera! Actions!
Before this kind of thing makes any sense at all you have to define and start measuring the on the kinds of action you are trying to get visitors to take. Are you selling things? Are you getting paid for advertising shown on your site? Are you trying to develop leads for your business? Are you trying to get people to download something? Are you trying to get people to register or sign up? Whatever actions you want people to take on your site, they need to be measured if they are going to be the basis for your ECPA (or APV, APDU). Most of these things can be measured using Google Analytics.
In any case, once you have tagged or otherwise instrumented your site to capture your desired actions, then you can track ECPA (or APV, APDU) associated with your site.
Then when you make big changes, you can see whether they improved your site's performance. You can measure the effectiveness of your SEM, your CPC campaigns on search engines, your affiliate programs, and your efforts to publicize your site.
Measuring Dollars Out per Dollar In
ECPA is a pretty good measure, but, it only measures efficiency on the cost side. You also want to measure the return you get in dollars and cents. You can do this (or approximate this) if you can come up with a dollar value for each of your site's target actions, either using an average value per action type or actual value per action, then you don't need the oversimplification that focusing only on ECPA imposes. Simply put, all actions on your site are not worth the same amount and it actually makes sense to spend more on actions that are worth more. What you really ultimately want is an ROI. I'll talk about that in a later post.
Tags: Conversion optimization, Cost per Action, CPA, eCPA, Optimization